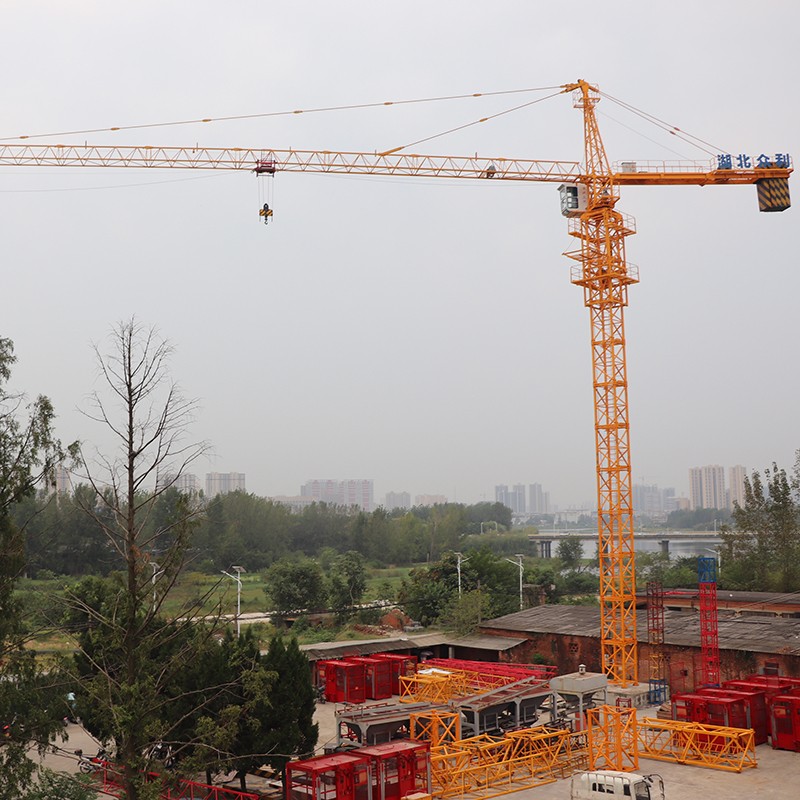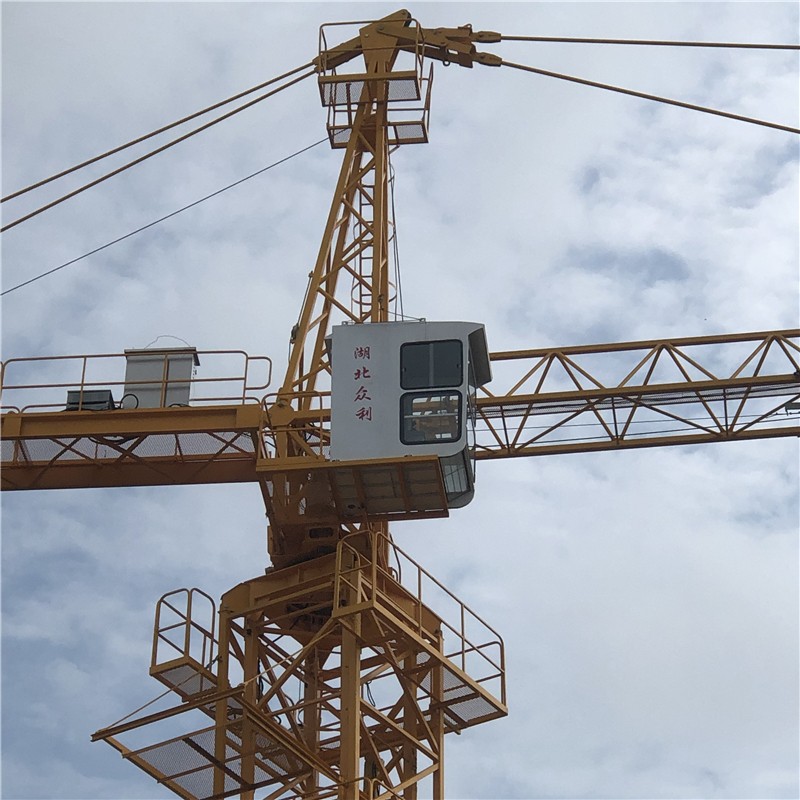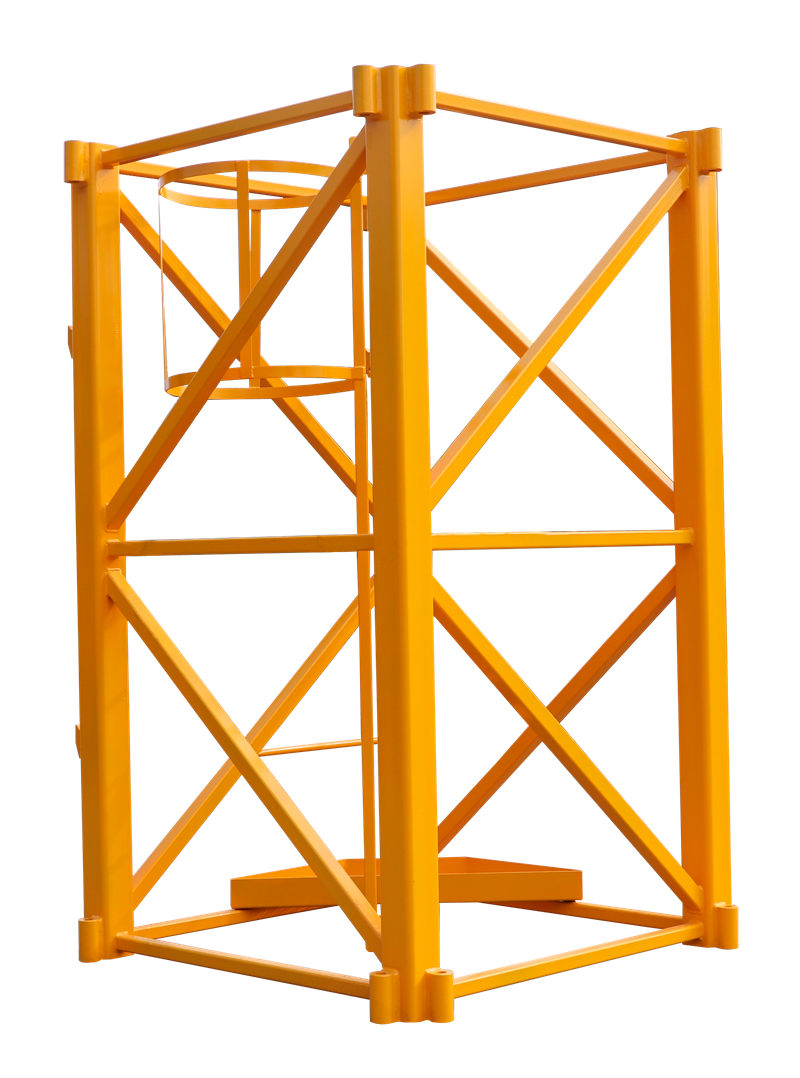 QTZ80(6012)
塔式起重機是我公司充分利用成組技術、組合設計技術及有限元分析技術,以"塔式起重機微機設計平臺"為工具,設計的國內最新型的起重運輸機械。
該機為水平臂架、小車變幅、上回轉液壓頂升式起重機。最大起重量為6t;額定起重力矩為800kN·m;最大起重力矩為843kN·m。
該機特點:
(1)性能參數及技術指標達到國內領先、國際先進水平,最大工作幅度60米,增加了塔機的工作空間。
(2)整機外形為國際流行形式,美觀大方。
(3)工作方式多,使用范圍廣。有基礎固定、外墻附著兩種工作方式,適用于各種不同的施工對象;獨立起升高度40米,附著高度二倍率150米。
(4)工作速度高,調速性能好,工作平穩,效率高。
起升機構采用多速繞線電機和單速比減速器,能實現重載低速、輕載高速。
小車變幅機構牽引小車在水平臂上變幅,具有良好的安裝就位性能。
回轉機構采用繞線電機和行星齒輪減速器,配置液力偶合器,承載能力高,啟動平穩,工作可靠,具備抗風就位功能。
(5)吊臂采用剛性雙拉桿懸掛,剛性好、自重輕、斷面小、風阻小、受力均勻、外形美觀。
(6)各種安全裝置齊全,可保證工作安全可靠。
(7)司機室獨立側置,視野良好,給操作者創造了良好的工作環境。
(8)使用方便維修簡單。
該機總裝機容量34.8kW,廣泛適用于高層飯店、居民住宅、工業建筑等大型建筑工程,是廣大建筑企業理想的建筑施工機械。
QTZ80 (6012)
tower crane is the latest domestic hoisting and transporting machinery designed by our company by fully utilizing group technology, combined design technology and finite element analysis technology, using "tower crane microcomputer design platform" as a tool.
The machine is a horizontal boom, trolley luffing, upper-slewing hydraulic jack-up crane. The maximum lifting capacity is 6t; the rated lifting moment is 800kN·m; the maximum lifting moment is 843kN·m.
Features of the machine:
(1) The performance parameters and technical indicators have reached the domestic leading and international advanced level, and the maximum working range is 60 meters, which increases the working space of the tower crane.
(2) The appearance of the whole machine is an international popular form, which is beautiful and generous.
(3) There are many working methods and a wide range of applications. There are two working methods of fixed foundation and external wall attachment, which are suitable for various construction objects; the independent lifting height is 40 meters, and the attachment height is 150 meters.
(4) High working speed, good speed regulation performance, stable work and high efficiency.
The hoisting mechanism adopts a multi-speed winding motor and a single-speed ratio reducer, which can achieve heavy load low speed and light load high speed.
The trolley luffing mechanism pulls the trolley to luff on the horizontal arm, which has a good installation performance.
The slewing mechanism adopts a winding motor and a planetary gear reducer, and is equipped with a fluid coupling, which has high load-bearing capacity, stable start-up, reliable work, and has the function of anti-wind in place.
(5) The boom is suspended by rigid double tie rods, with good rigidity, light weight, small section, small wind resistance, uniform force, and beautiful appearance.
(6) Various safety devices are complete to ensure safe and reliable work.
(7) The driver's cab is placed on its side independently, with a good view, which creates a good working environment for the operator.
(8) Easy to use and simple to maintain.
The machine has a total installed capacity of 34.8kW, which is widely used in large-scale construction projects such as high-rise hotels, residential buildings, and industrial buildings. It is an ideal construction machinery for the majority of construction companies.