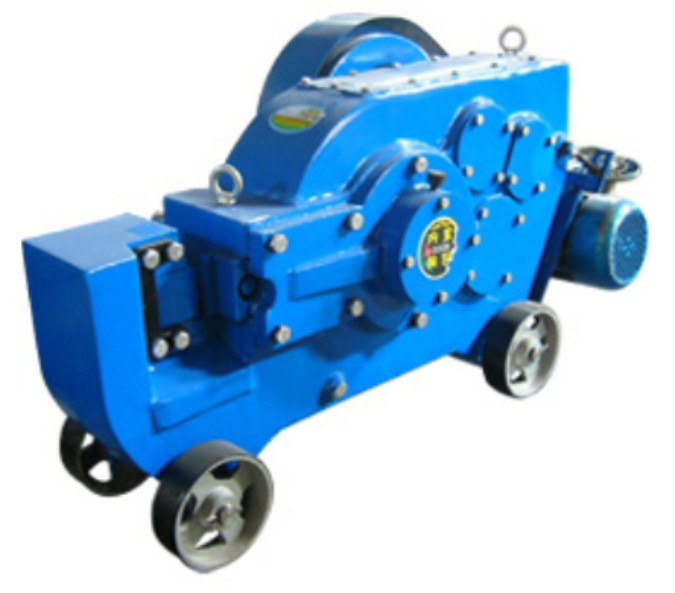 A、產品用途
GQ40型鋼筋切斷機,它適用于建筑工程上各種鋼筋混凝土中碳素鋼及熱軋圓鋼和螺紋鋼。亦可切斷扁鐵、方鋼和角鋼。
A、Product usage
GQ40 type steel bar cutting machine, another name is Steel bar cutter , It is suitable for all kinds of carbon steel in reinforced concrete construction and rebar and hot rolled round steel. flat iron , Angle steel and square steel can also be cut.
B、產品特點
1、體積小、質量好、結構緊湊、緊實可靠。
2、潤滑性能好:采用箱式封閉結構,齒輪飛濺潤滑,依次加油連續作業可用上一個月以上。〈油面應不低于油標刻度尺線,使機器始終處于良好潤滑狀態〉
3、功能耗損少:因潤滑條件改善,齒輪軸端采用滾動軸承,于同類型切斷機相比與同類型切斷機相比同負載時功率可降低三分之一.
4、移動方便:前輪轉向,機動靈活,維修方便。
B、Product features
1, small size, good quality, compact structure, firm and reliable.
2, good lubrication performance: the box sealed structure, gear splash lubrication, continuous operation, in turn, refueling available on more than a month.< oil surface should be not less than the scale line, make the machine always in good lubrication condition >
3, less function loss: improved because of the lubrication condition, gear shaft end USES the rolling bearing, compared with the same type cutting machine when compared with the same type cutting machine with load power can reduce one third.
4, move convenience: front wheel steering, flexible and convenient maintenance.
C、主要技術參數

切斷鋼筋直徑:6/40
切斷扁鋼最大規格:70×15
切斷方鋼最大規格:32×32
切斷角鋼最大規格:50×50
連續切斷次數32次/min
電機功率:2.2/3KW
電壓、380V /50HZ
轉速:2880r/min
外形尺寸:1190×450×680mm
整機質量:485KG
C、Main technical parameters
Cut off the steel bar diameter: 6/40
To cut off the flat steel specification: biggest 70 x 15
Cut square steel specification: largest 32 x 32
Cut off the Angle steel specification: largest 50 * 50
Cut the number of consecutive 32 times/min
The motor power: 2.2/3 kw
Voltage and 380 V/50HZ
Speed: 2880 r/min
Dimension: 1190 * 450 * 680 mm
The whole machine quality: 485 kg