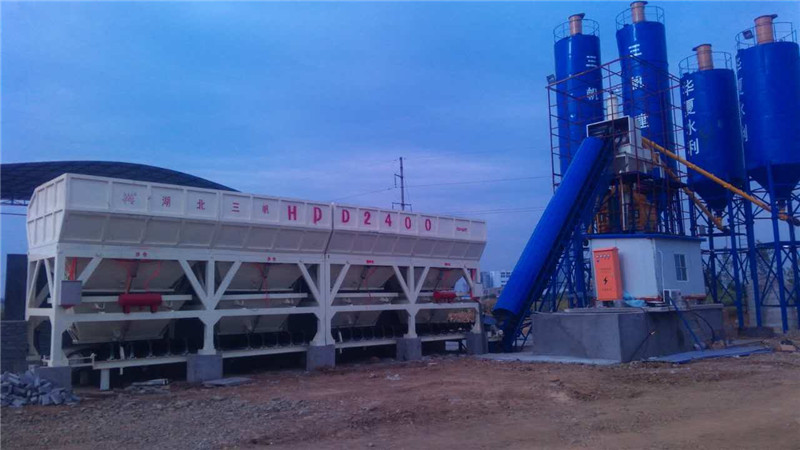 2016年8月30日建成的南水北調13標90水泥攪拌站
August 30, 2016 completion of the South Water Transfer 13 Standard 90 cement mixing station
2016年,湖北三帆面臨著十分嚴峻的挑戰,建筑機械銷售市場疲軟,對我們的攪拌機系列和振動棒等小產品系列,沖擊很大,一方面是因為要求降低噪音,另一方攪拌站到處都是,三是政策要求 ,不準使用小攪拌機,要降噪音,要提高混凝土質量,所以我們的攪拌機在許多地方的用途,從攪拌混凝土變為攪沙漿,這樣,使用的頻率少了,也不容易壞了,用戶對質量的要求也低了,所以對我們公司高質量攪拌機產品的沖擊就更大了。同時,國家減少了基建和房地產,對我們的其它產品也造成了巨大的影響,振動棒振動器等小產品的銷售量也是連年下降。
To 2016, Hubei three sails facing serious challenge, construction machinery sales market weakness, for our mixer series and the vibrating rod and other small products, big impact, partly because the requirement of noise reduction, a mixing station is everywhere, the three is the policy requirements, are not allowed to use a small mixer, to noise reduction, to improve the quality of concrete, so we use blender in many places, from mixing into concrete mixing mortar, in this way, the frequency of use less, is not easily broken, the quality demands of the users is low, the high quality products of our company mixer is greater impact. At the same time, countries have reduced infrastructure and real estate, but also caused a huge impact on our products, such as small vibrator vibrator product sales also declined year by year.

面對今年嚴峻的建筑機械銷售市場,怎么辦?湖北三帆的領導者們,不等不靠,不逃避,不退縮,積極面對。一方面,積極探索,努力尋求市場突破口,開發適銷對路的產品,尋求符合本企業銷售的新思路,建立了覆蓋全國的密集的銷售網絡平臺,大幅度地提高"三帆"牌產品在全國的知名度和銷售量;另一方面,調整銷售策略,跑振的器配套廠家,降低成本,開源節流;跑直接用戶,緊跟國家新農村建設政策,開辟鄉鎮攪拌站市場,今年1-8月銷售攪拌站30多套,為完成公司年初制定的回款任務,打下了堅實的基礎。
Faced with this year's severe construction machinery sales market, how to do? The leaders of the three sails in Hubei, do not rely on, do not evade, do not retreat, positive face. On the one hand, and actively explore, to seek a breakthrough in the market, the development of marketable products, to seek new ways to meet the enterprise sales, the establishment of a national intensive sales network platform coverage, greatly improving the "three sail" brand products in the country's visibility and sales; on the other hand, adjust marketing strategies for supporting manufacturers, running vibration and reduce costs, increase income and reduce expenditure; run direct users, followed by the national policy of building new rural areas, develop township mixing station station market, more than and 30 sets of 1-8 months of this year to complete the sales mix, make company's early response task, and lay a solid foundation.
盡管近兩年建筑機械銷售市場不好,公司深感經濟下行的壓力,我們公司也能力爭到各個工地尋找突破口,特別是武漢銷售公司的韓傳兵經理,想千法設百計,只要找到一個,就像種下一粒種子,讓它發芽壯大,然后通過優秀的產品質量和一流的服務,影響一大片。做到進一方市場,樹一塊豐碑!
Despite nearly two years of construction machinery sales market is not good, the company felt the pressure of the economic downturn, we can fight to each site to find a breakthrough, especially in Wuhan the company's sales manager Han Chuanbing, set hundreds to thousands of law, only to find one, is like a seed, let it grow, then good product quality and first-class service, the impact of a large. Do in a market, a monument in the tree!
例如:武漢銷售公司的韓傳兵經理,帶領武漢銷售公司一班人,堅定信念,端正態度,發揚長征精神,團結一心,群策群力, 攻艱克難,從2015年在湖北潛江賣出第一套攪拌站開始,通過不懈的努力,今年已經在湖北潛江的熊口、澤口、浩口、王場等地及其周邊的天門、京山、仙桃等地,成功地銷售了22套攪拌站,在湖北眾利工程機械有限公司的銷售史冊上,寫下了不朽的詩篇。
For example: Wuhan sales company manager Han Chuanbing, led the Wuhan sales company to a group of people, faith, attitude, develop the long march spirit, unite, work together to attack the storm tough, from 2015 to sell the first set of mixing station in Hubei Qianjiang, through unremitting efforts, this year has been in Hubei Qianjiang port, Xiong Ze Kou Wang Hao, port, site and its surrounding Tianmen, Jingshan, Xiantao, successfully sold 22 sets of mixing station, sales in the annals of Hubei Zhongli Engineering Machinery Co. Ltd., wrote the immortal poems.